Hello, friends! It's Galentine's Day – the day before Valentine's Day to celebrate the best ladyfriends a girl can have! Today I'm joined by one of my writing friends, Elizabeth Mays, to talk about some of the best buddies in fiction!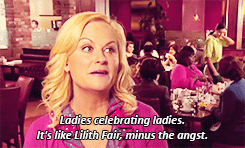 A Dose of Girl Power for Galentine's Day!
Let us take today to celebrate the friendships we've forged with other females in spite of the constant attempts of the patriarchy to pit us against each other through love triangles and lower wages!
In other words: Happy Galentine's Day to all my wonderful, beautiful, ladies!
In all seriousness, though, Galentine's Day is the better of the two holidays (the other being the dreaded Valentine's Day… or Singles Awareness Day for those of us without a mate). It's a day to celebrate our female friendships, and while I was joking earlier, there really seems to be a conspiracy to keep women working against each other instead of working with each other.
Especially in film and literature.
In a great many classic films and books, female friends in a story have a falling out, especially over a guy, only to spend the rest of the story being forced to realize that they were better off in the beginning.
Admittedly, it is kind of an outdated trope; the first movie that comes to my mind when I think about it is Clueless, which is a movie older than most of my students…
On the other hand, when I sat down to write this post, I was struggling to find girl buds who weren't actually sisters!
You've got the Bennett sisters from Pride and Prejudice and the Dashwood sisters from Sense and Sensibility. Both great works from Jane Austen in which at least one of the sisters is the protagonist of the story. As sisters, they are there to support one another, and occasionally guide them when they go astray (I'm looking at you, Lydia Bennett!).
Similarly, we have the March sisters from Little Women, by Louisa May Alcott. I vaguely remember reading a children's version of this book when I was younger, and it was my fascination with Jo that perhaps helped shape me into a writer today. I was also a bit jealous of the idea of having siblings to share all of life's secrets, especially sisters with whom you could share clothes and do your hair together and other things that normal siblings do. Even fight!
Later, when I had brothers, I was able to experience some of it, but it will never be the same as having a sister.
It is that sense of camaraderie, closeness, intimacy, a shared bond, or whatever you want to call it, that is so important to forming lasting believable relationships between characters.
But is it only available between sisters?
No, it's not, but the female characters who form the strongest bonds are compared to sisters because of the strength and love shared between them like in The Divine Secrets of the Ya-Ya Sisterhood or The Sisterhood of the Traveling Pants.
Both are about groups of friends who become as close as sisters.
Even the last book I read (or rather, the last book I finished) had two girls who were bound as sisters through magic: Truthwitch.
So what's the message?
That we are stronger together. That when women become friends, they create lasting bonds that are as hard to break as family ties.
I only touched on a very select few stories, but there are plenty out there. Do me a favor and drop some names of your favorite fictional girl-buds or sisters in the comments below. I'm always on the look for new stuff to read.
And then, find your favorite sister, be she blood-related or just a friend, and wish her a Happy Galentine's Day!
Elizabeth Mays is the best gal-friend a girl can have! When not writing at her website, JustAddTea.wordpress.com, she's hosting the #JustAddTea twitter chat on Sunday mornings at 11 AM EST, joining Writers On The Storm, and teaching the youth the magic of friendship!